Our Staff
Certified Veterinary Technicians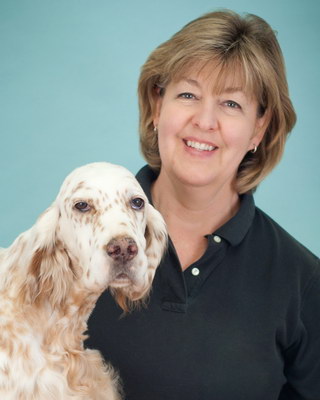 Joan, Certified Veterinary Technician
Joan is another of our longtime dedicated technicians. Originally from Ohio, Joan joined Aloha Dog and Cat in 1995. Extremely active in the AKC and local dog shows, she has a great wealth of knowledge in the areas of canine reproduction and breeding soundness. An award winning breeder of English Setters, her pet population is a bit fluid, but currently has five of her own dogs at home for breeding and showing.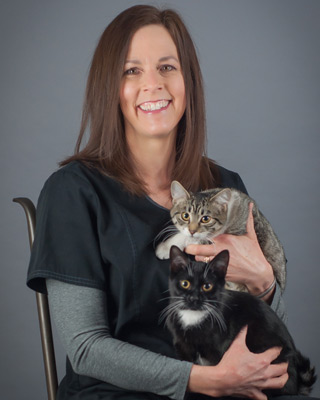 Julie, Certified Veterinary Technician
Julie is our southerner, which we say with much affection! She was born and raised in Eastern Tennessee, but has been here in Oregon for the last 9 years. We love that she has brought her southern charm and grace as well as her vast veterinary experience to our team at Aloha Dog and Cat. She graduated from Columbia State Community College in Columbia TN with her AAS and then went on to work at the University of Tennessee Veterinary School in the ICU. Her favorite aspect of work is in anesthesia and surgery, she loves learning and experiencing how different patients respond to different anesthetic protocols and helping patients achieve the best possible surgical experiences. Julie loves many aspects of patient care, and also has experience in emergency medicine. Outside of work, Julie loves being able to hike in the mountains and go to the beach! She loves spending time with her family, she has three awesome children and an amazing husband nearly 30 years! Of course she has a few furry children as well- Lucky, her 13 year old cat who has two 1 year old kitties to deal with- Gracie and Charlotte, and Cindy her 13 year old Border collie mix.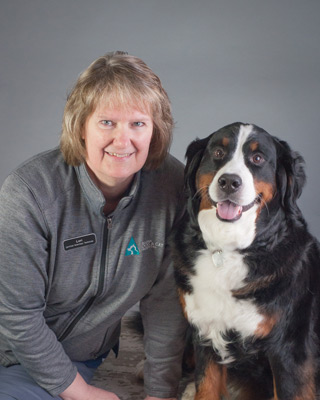 Lori, Certified Veterinary Technician
Lori joined Aloha Dog and Cat back in 2014, and we are so lucky to have her wealth of experience and knowledge. Lori is a graduated of PCC, earning her AAS in Veterinary Technology in 1981. She's been working as a veterinary technician ever since! Her special areas of interest at work include surgery, behavior/training as well as orthopedics and radiology. Outside of work, Lori continues her passion for working with animals through her Bernese Mountain Dog, Piper. Piper is quite talented and participates in agility, nose work, therapy, and obedience! Lori is a member of HOPE-Animal assisted crises response which provides working dogs to comfort people in crisis or first responder post crises situations. Lori and Piper also participate in Pet Partners, which is an animal assisted therapy organization that allow them to visit hospitals, rehab and memory care facilities, and schools! They are a busy team and provide so much back to our community! Somehow Lori still finds time to also spend time with her family which includes a husband Paul, two adult children and a cat, Marley, as well as an African Grey Parrot, Poco.
Mackenzie, Certified Veterinary Technician
Mackenzie is a born and raised Oregonian, and we are so lucky to have all her skills here at ADCH. She's a graduate of Sanford Brown College Veterinary Technology Program and received an outstanding student award in her graduating class. Her favorite things about being a CVT are assisting with surgery/anesthesia, gross abscesses (really, Mackenzie?) and she also has a growing interest in internal medicine somewhat due to her wonderful French Bulldog, Bacon Bits and his many interesting medical conditions. Outside of work, McKenzie loves training Bacon to do tricks, he already has his "Novice Trick Dog" title! And she loves spending time with family and friends. In addition to Bacon, Mackenzie also has 2 adorable cats, Cheeto and Boo.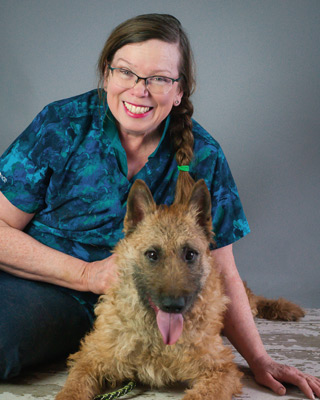 Marian, Certified Veterinary Technician
Marian joined Aloha Dog and Cat in 1995, making her another of our most dedicated employees. Marian has interests in many areas of veterinary medicine, but is usually our go-to person for cytology, or for the random injured bird or other wildlife, as she is extremely knowledgeable with many species besides dogs and cats. She has a small farm with goats, dogs, cats, a variety of poultry, and a horse!
Veterinary Support and Administration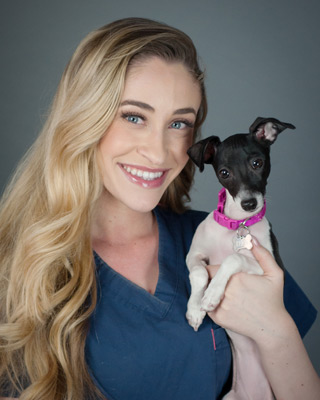 Brooklyn, Receptionist / /Veterinary Assistant
Brooklyn joined our team in August of 2018 and has been a great addition to Aloha Dog and Cat! Brooklyn loves being able to greet and interact with all the adorable patients that come through our door every day, and also to greet the amazing owners that come with them. Being a student in communications, she really enjoys being able to be a bridge between our veterinarians and clients and getting to help the clients feel confident and included in their pets care. Brooklyn is a busy person, she is also pursuing a degree in Media Broadcast at PSU. Since she's a newbie to Oregon from central California, when she has some free time she enjoys exploring Portland area for amazing new restaurants and fun places. She also has 3 adorable Italian greyhounds to keep her busy too–Jett (11), Talia (9) and Luna (7) and a new IG puppy too-Reign!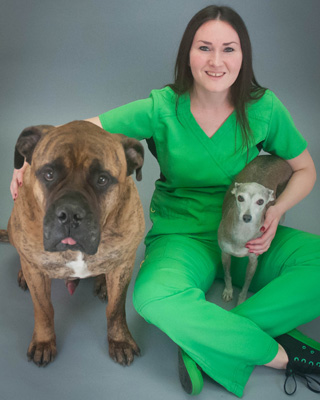 Emily, Receptionist
Emily is one of our very dedicated and hard working receptionists, and has been an amazing member of our team since 2015! Emily loves being able to work with our clients and has a great wealth of knowledge from both her experience at work, and also her experience with her own pets who have had some interesting and very educational medical needs! Emily really enjoys being able to use that experience to help educate and bond with clients and their pets.

Emily is another Oregon native, and has two very sweet Italian Greyhounds which can sometimes be found under the desks in reception! When she's not busy here at the clinic, Emily loves camping and hiking and enjoying some of the delicious food the Portland area has to offer.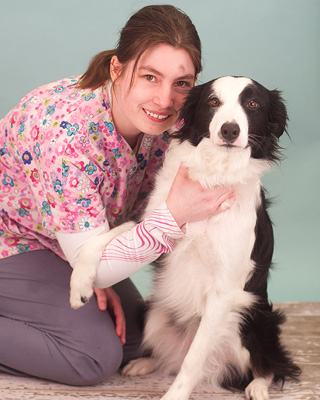 Kelsey, Technician assistant
Kelsey is another one of our hard working assistants. She is a master at working at all the "behind the scenes" things our clinic needs to function well. A master of the autoclave and our in house technical support, she wears many hats well. Kelsey also enjoys radiology (X-rays) and improving the lives our patients. When not at work Kelsey enjoys reading, watching baking shows and attempting to bake.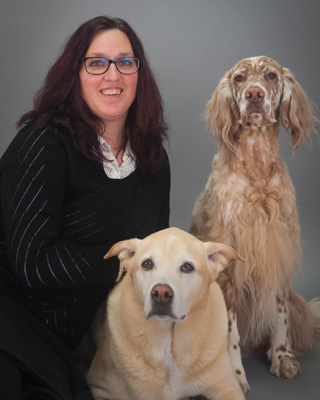 Sandra, Practice Manager
Sandra hails from Wisconsin, but we try not to hold that against her, as she seems to genuinely love Oregon as her second home. As our Practice Manager she wears numerous hats and does it all with grace and a great sense of humor. Her favorite things about working with our clients is seeing every day how kind and thoughtful they can be, and she loves being able to partner with them in their care. Plus how adorable the pets all are makes it extra worth it! She also appreciates our great staff full of experienced, talented, supportive doctors and technicians, assistants and receptionists, and is grateful and proud to be part of the ADCH team.

In her free time, Sandra loves the outdoor adventures Oregon has to offer and is often found out with her dogs Gracie (12 yr old Rottweiler mix) and Ginger (4 yr old English Setter) hiking trails, kayaking or doing some stand up paddle boarding.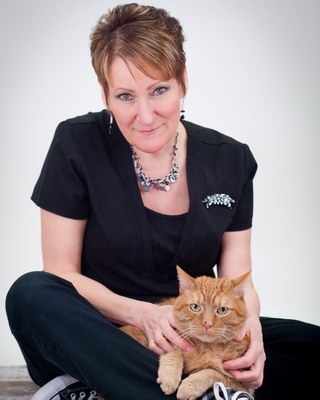 Wyonia, Receptionist/Certified Veterinary Technician
Wyonia joined Aloha Dog and Cat in 1986, making her one of our longest employed staff members! Around the hospital Wyonia is affectionately known as our "cat whisperer", as she really has a way with those of the feline persuasion. She also really values developing relationships with our clients and spending time getting to know them and their pets. Outside of work, Wyonia is quite a movie fan, and also loves collecting new and interesting jewelry. She has 2 cats, Ozzie and Layla.